Good morning! I am playing along with Rebecca Cooper's Simple Things challenge this week.
Jack has been taking swim lessons for almost two months, and his class has become a regular part of our routine. After he gets out of the pool he likes to be wrapped up in a beach towel then have me carry him to the car. 2 year olds are rather particular, aren't they?!?
(white frame is by Karla Dudley - Digi Essentials No. 11)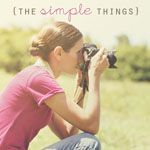 We are having a lazy family day today... much needed after a busy week.